90
HALL FAMILY HISTORY
BY WANDA WARE DEGIDIO
WWW.HALLFAMILYNAME.COM @ 2008

DESCENDANTS OF ROLLO AND DROGO OF NORWAY AND NORMANDY

1. Hrolf "Rollo" (c865-c932) son of Rognvald Eysteinsson, Earl of More, he married Poppa de Bayeux, (see above) Surnames from A-Z, Plus Supplementary Notes and Lists, By Jan B. Young, pg. 45. Rollo's daughter Adele wed William, Duke of Aquitaine. A 9th century Anglo-Saxon Chronicle states, "in A.D. 876, this year Rollo pentrated Normandy with his army; and he reigned fifty winters." The Year 876 must actually be 886 as Rognvald, Rollo's father, was born about 845.

2. William (893-12/17/942) wed in 935 Luitgarde (c916-2/9/977), daughter of Herbert II, Count of Vermandois and Adele de France, without issue. William's mistress was Sprota (c911-c940) who wed Asperling de Vaudreuil after he rescued her following William's assassination by Arnulf I of Flanders. They were the parents of Herleve de Vaudreuil who wed Robert, Archbishop of Rouen, and Rodulf de Vaudreuil d'Ivry (c945-c1014). Arnulf I was the son of Baldwin II and husband of Adele (c910-c960), sister of Luitgarde. In 943, Luitgarde wed Theobald of Blois,and they had five children. Theobald was the brother of Gerlotte de Blois who wed Hrolf Robert "Thurstan". Years later, Arnulf asked Richard I for forgiveness and he agreed, returning his lands.

3. Richard I, (933-996), Duke of Normandy from 942-996, wed in 956, Emma, daughter of Hugh The Great, Count of Paris, becoming guardian of Hughes' son Hugh Capet, the future King of France. Emma died childless in 968. Hugh declined the crown of France twice, passing it to his son. Richard I and his first mistress had Beatrix and Papia, and she likely died early. Upon Emma's death in 968, Richard wed his mistress Gunnora and had Richard, Robert, Geoffrey, Mauger, William, Maud, Hawise and Emma. By a British noble, he was he father of Wymarcha who wed Ansfrid II, le Goz, and after Ansfrid's death, she became a nun.

FOLLOW GREEN LINEAGE IN CHART BELOW STARTING WITH GODFREY, COUNT OF BRIONNE AND EU.
​
1. Hrollager Drogo, (c867-896), son of Rognvald Eysteinsson, Earl fo More. He wed Emina, daughter of Baldwin I, Count of Flanders and Judith Carolingian (844-879) daughter of Charles II, King of France (half-brother of Luitgarde, wife of William, Duke of Normandy), and Ermentrude, Countess of d'Orleans. Judith wed two kings of Wessex, father and son, Ethelwulf and Ethelbald, after their death, she eloped with Baldwin I, and they fled to Rome to seek and Pope's blessing. Her father forgave them and made Baldwin I the first count of Flanders. The History of the Drake Family, By Terry Drake, pg. 10.

2. Rollo Robert Thurstan (c895-c945) wed Gerlotte (c913-c937), d/o Theobald "The Elder" de Blois and Richilde of Borges. Gerlotte's third son was Ansfrid, first Viscount of the Hiemois and father of Ansfrid II, le Goz, whose son Thurstan le Goz was a favorite of Robert, Duke of Normandy according to, The Conqueror and His Companions, By James Robinson Planche, 1874, Vol. 2, pg. 18. Gerlotte died soon after the birth of Ansfrid. Her two other sons were William-Thurstan and Anslech. Anslech de Bastembourg was Baron of Bricquebec, he was born about 935 and wed Gilette de Beaumont. They were parents of Eremburgh (c930-) who wed Torf de Harcourt, son of Bernard The Dane, parents of Thorold de Pont Audemer who wed Wevia d'Arques. Hugh the Great, Duke of the Franks and Count of Paris, was widowed at the time of Ansfrid's birth and wed Hedwig upon Gerlotte's death. He was without doubt the father of Ansfrid I and played a major role in his life and who he married. Descendants of Hugh the Great and Ansfrid I are of the rare haplogroup G2a (see link to Hugh the Great). Hugh's ancestor was the Emperor Charlemagne by way of his mother Beatrice.

3. Ansfrid I, Le Goz (c937-c979) is referred to as "The Dane" by William of Jumieges, he was Count of Hiesmes. He wed about 965 in Tillieres, Helloe (c950-1032), the daughter of Count Godfrey de Beaulac, de Tillieres and Matilda de Luxemburg, per: Two Thousand Years One Hundred Generations Again, By Robert Page, p. 89. Matilda's brother, Frederick, Duke of Upper Lorraine, married Beatrice, daughter of Hugh the Great and Hedwig of Saxony, daughter of Henry the Fowler, King of Germany and Matilda of Ringelheim, in 959, Hedwig's brother divided the dutchy and Godfrey de Beaulac became duke of Lower Lorraine and Matilda's brother Frederick became duke of Upper Lorraine. This marriage was arranged by Hugh the Great before his death in 956. Godfrey died in 964 after joining the Emperor Otto, his first cousin, against Adalbert in Rome. "The surname Goz (Guz, Gois, Goiz) originates in Normandy, "born by a family of Danish strain", in the early tenth century. Several lines can all be traced to Turstain Goz, Viscount of Hiemes (Exmes) and Sir de Gouvis, and from him back to Hrolf Turstain, grandson of Rognvald. "Hrolf" when Latinized is "Rollo". The family is said to have originated in Gotland in southern Sweden, then part of the domain of the King of Norway. Hrolf, or Rollo, who led an invasion of Normandy, which resulted in 912 in obtaining a feudal fiefdom from Charles the Simple, was a half-uncle of our Hrolf Turstain. Hrolf Turstain married Gerlotte de Blois daughter of Thibaut, Count of Blois and Chartreuse" Source: The Fullwood family: being a genealogy of the Fullwood family in the United States and its English antecedents and the pedigree of the author, including all collateral families, By Michael David Fullwood, 1992, p. 560.

4. Ansfrid II, le Goz (c966-) called 'The Dane', was Count of Hiesmes and Steward of Normandy and wed Wymarches. Charters mention nun Wimardis as the widow of Ansfrid II and the mother of Robert fitz Wymarc. Wymarche is believe to the the half-sister of Queen Emma, who was likely behind Wymarche and her half-sister, Abbess Beatrice, becoming nuns at Montvilliers. Emma's son Edward was elevated to Sainthood, and her son Aethelred was considered for Sainthood. Ansfrid and Wymarche were parents of Thurstan le Goz who wed Judith Montanoilier and Beatrice who wed Fulk D'Anet / D'Aunou. Robert FitzWimarc is pictured on the Bayeux Tapestry holding the dying Edward the Confessor in his arms. "Though the name of Robert fitz Wimarc's father never transpires, there can be no doubt that he was a Norman; nay, that he was allied by blood to the Ducal House, and so a relation of Queen Emma, results from a well-authenticated statement that Robert fitz Wimarc was a cousin (consanguineus) of Duke William. William of Poictiers, a Chaplain and Protege" of the Duke, and withal a very accurate writer, expressly says so; and whereas it is clear that the noble Saxon lady Wimarca, mother of the said Robert, cannot have endowed him with any such consanguinity, it follows that his Norman father did. Of Wymarcha, the mother of Robert fitz Wimarch, we know little more than what has been already hinted at, viz: that William of Poictiers, writing her name as Guimara, calls her a noble lady (Nobilis Mulier). That she was an English heiress is no great assumption, when we see that she was selected as wife for a relation of Queen Emma. Where her estates lay is another question, for Domesday affords no means of distinguishing those which her son, Robert, inherited from his mother, and those which he himself acquired under the successive auspices of Edward the Confessor and King William." Transactions of the Shropshire Archaeological and Natural History ..., Vol. 2, pg. 3.
FOLLOW RED LINEAGE IN CHART BELOW STARTING WITH ANSFRID II, LE GOZ.

Reginald, Earl of Cornwall and his father, King Henry I, were the driving force behind arranging marriages for the benefit of their children and grandchildren. In 1129 at age 63, Robert d'Avranches was fined 170 silver marks by king Henry I for showing his displeasure toward the daughter of Geldwin de Dol prior to their marriage arranged by King Henry I. As a result of this marriage, the manor of Okehampton passed to Matilda, daughter of Robert d'Avranches and Hawise de Dol, and then to her husband, Robert Fitz Roy, natural son of King Henry I. The Monks of Ford wrote a flawed history of the d'Avranches family in order for Robert Fitz Roy, the kings natural son, to become Lord of Okehampton, from their journals of the d'Avranches family they write, "by King Henry's means, obtained in marriage Hawise, daughter and sole heir to Robert de Abrincis (or Avranches)." The Peerage of England; Containing a Genealogical and Historical Account, Vol. 6, p. 451.

Charters of the Redvers family and the Earldom of Devon: 1090 - 1217, pg. 70, Warin de Aula, Hugh Gernon and Brian de Insula were joint donors of St. Nicholas' Chapel at Carisbrooke to Quarr Abbey (above no. 17) 20. to Montacute Priory (June 1141 x 1148).Calendar of the Charter Rolls preserved in t he public office: Roll 29, by Great Britain. Public Records Office, pg. 229. A charter of Baldwin de Redvers in favour of Hilary the "Dean, wit(s), Hubert de Waus, Stephen de Mandeville, Geoffrey de Fornellis, Jordan de Estre, Ralph de Cadamo, Giralmus de Vernon. William de Gemegis, Richard Angerville, William de Morville, Robert de Saucei, William Helio, Hugh Peverel, Geoffrey de Spinto, Hugh de Windeleshores, Walter, son of Ralph, Robert his brother, Robert, son of Payne, Theodoric his brother, Hugh Gernon A.D. 1161. Release by Reginald de Aula to Hugh Peverel 10.9 yearly quit rent in Edelmeton of the fee of William de Say. Wit(s) Hugh Ireis, John Blund of Edelmeton and others (named). Catalogue of Ancient Deeds in the Public Records Office, Vol. 2, pg. 62, A-2311.

A charter of Richard de Redveriis, earl of Devon, dated A.D. 1161 (Monasticon, Vol. V, pg. 805); witnesses, Henry and William brothers of the said Richard, Payn Trencard, Robert his son, Geoffrey de Insula, Payn the chaplain, Hugh Peverell, William de Morvill, Ivo his son, Alard the clerk, Goldwin the clerk, at Karesbroch. Hugh Gernon, nephew of Baldwin de Redvers, and the "brethern" of Warine de Aula and Brian de Lisle, appeared with Baldwin de Reviers, Brian de Lisle and Warin de Aula on the Foundation Charter of Quarr Abbey in honor of Richard de Redvers who had died. This de Lisle family descended from Geoffrey de Marisco who married Richilde de Douai, Juliana's aunt. Thomas de Aula executed a charter to Quarr abbey, in the reign of Henry III, witnessed by Walerau, warden of the Isle of Wight. The Knights Templar (1118-1312) owed its foundation to Warine de Aula and Juliana his wife, who about the year 1160 granted the site to the Knights and granted to the poor of the Hospital of Jerusalem 2-1/2 hides of land, according to, A history of the diocese of Exter, pg. 102.

The following from Genealogical Gleanings in England, Vol. 1, By Henry Fitz-Gilbert Waters, 1885, Britain, pg. 91, provide the following on the de Insula or de Lisle family.
1. Jordan de Insula = Hawise and lived in the time of King Henry I and Stephen.
2. Geoffrey de Insula gave land in frank almoine for the soul of earl Baldwin of Devonshire.
3. Walter de Insula, lord of Wodeton, = Margaret.
4. Baldwin de Insula, lord of Wodeton and Plompton in the Isle of Wight.
5. John de Insula, a baron in the time of Edward I and Governor of Carisbrook Castle, ob. 32 Edw I.
6. Walter de Insula, lord of Wodeton = Margaret.
7. Walter de Insula, lord of Wodeton = Florence.
8. William de Insula, lord of Wodeton.
9. William de Insula, 44th Edw III
10. Sir John de Insula or Lisle, Knt, Lord of Wodeton = Margaret, dau of John Bremshot of Bremshot in co. Southampton (his son John de Insula m. Anne de Botreaux, parents of Margaret de Insula de Lisle of Wodeton, Isle of Wight, who m. John Rogers).
11. George de Insula = Anna Montgomery of Calais.
12. Lancelot Lisle = Anne, dau of Sir Thomas Wroughton, Kent.

​Anthony Rogers payeth by the year of the hereditaments ..... Lancelot Lisle and ..... Thomas Hall, esq. holdeth hi fee half a hide of ground and 2 mills in Bradford and payeth 75s .... rental of Bradford Manor. Wilts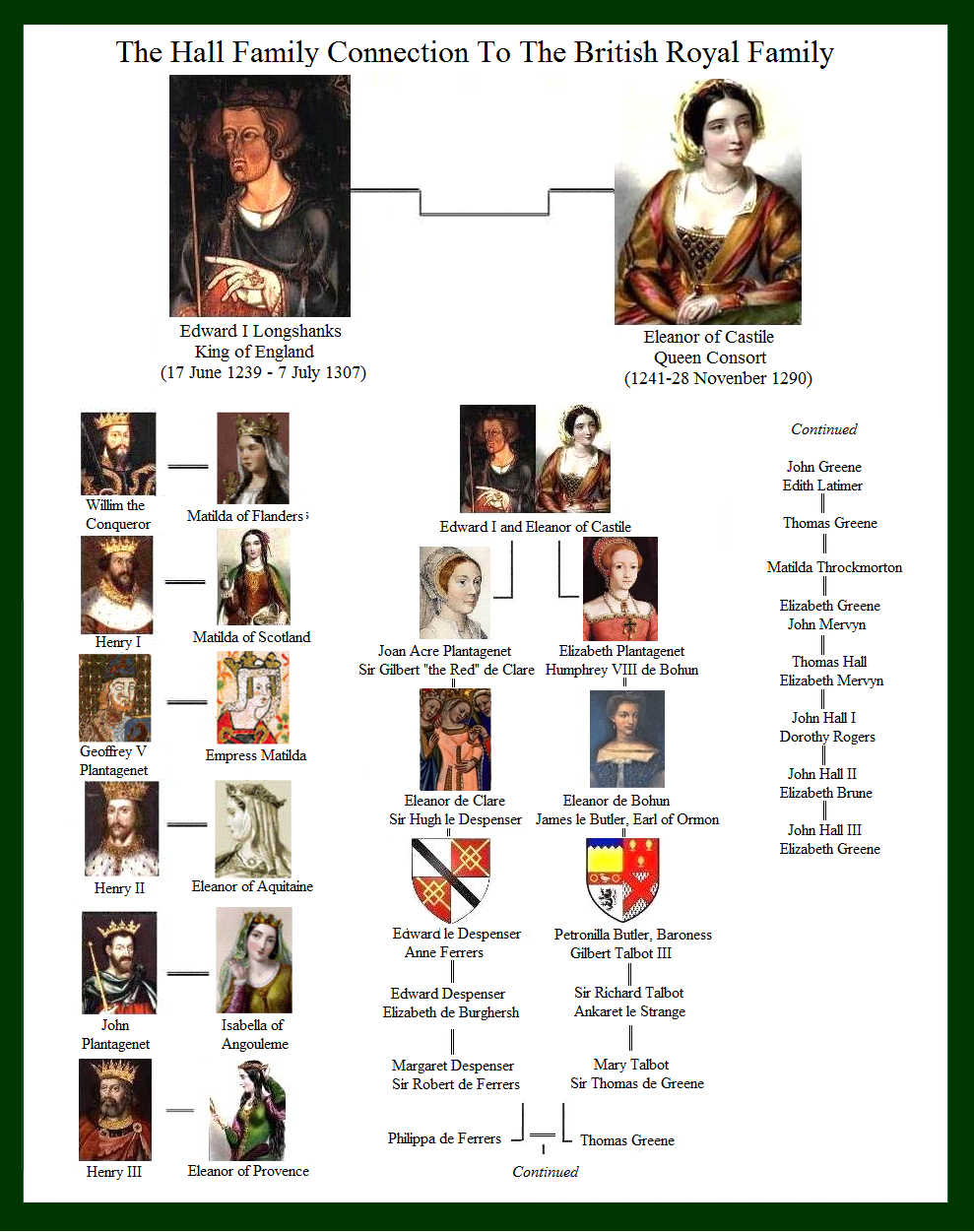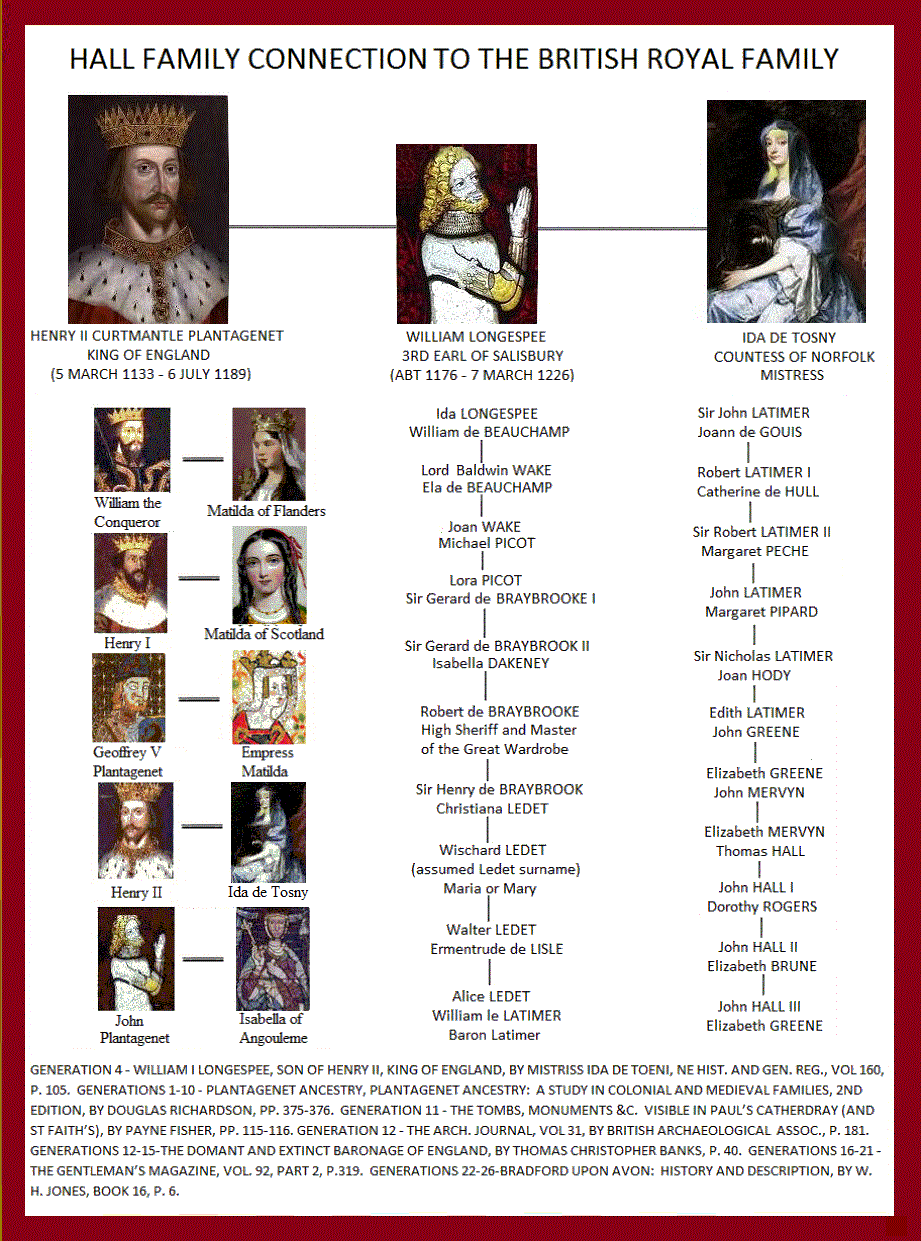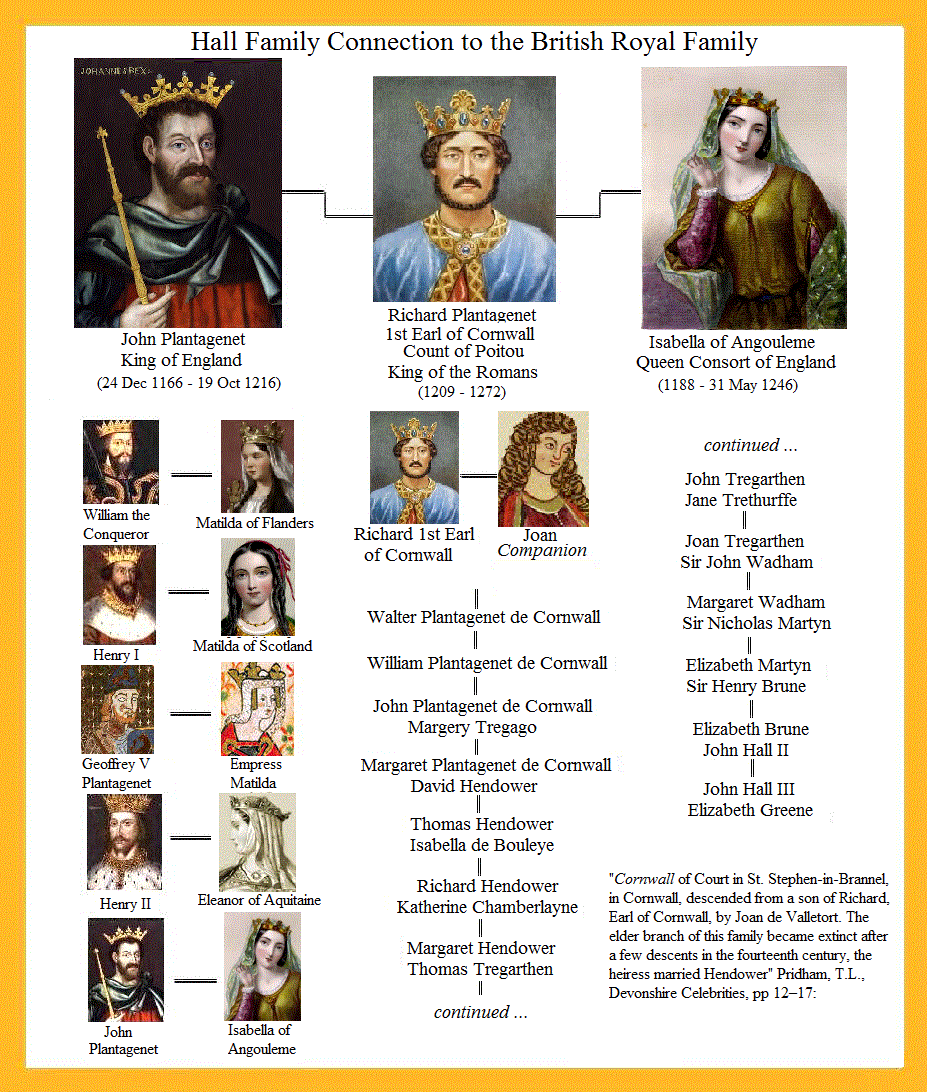 In my opinion there is no proof that Richard was legitimate. It has never been claimed for Walter de Cornwall, the ancestor of the Cornwalls of Brannel, of whom this paper chiefly treats, that he was legitimate. The joint authors of the House of Cornewall cite all the available evidence to show that Walter was the natural son of Earl Richard, by Joan de Valletort, a fact which has never been in dispute. .... Richard and Walter experienced the same treatment at the hands of Earl Edmund. Richard had a grant from Earl Edmund of the manor of Thonock; Walter had a grant from Earl Edmund of the manor of Brannel. Neither of these manors was in any sense adequate to support the dignity of a lawful brother and heir of Edmund Earl of Cornwall. Thonock was in 1273 worth £20 yearly; Brannel was, in 1300, to Walter worth £18. Both Richard and Walter were styled de Cornwall (de Cornubia) and styled by Earl Edmund his brothers. Journal of the Royal Institution of Cornwall, Vols. 17-18, pg. 410.
The manor of Brannell was granted by king John [father] to Richard Earl of Cornwall and king of the Romans. ... William de Cornwall of Court in this parish, is mentioned by Prince as first prior of Bewley; and afterwards in 1272, abbot of Newham in Devon. He is represented as living to a great age, and as dying in the year 1320 blind and decrepid. From the family of Cornwall it passed by successive female heirs to the families of Hendower, Tregarthyn, and Tanner. The History of Cornwall: From the Earliest Records and Traditions ..., Vol. 2, By Fortescue Hitchins, Samuel Drew, ​

In 1308 Walter, described as Sir Walter de Cornubia, knight, presented Baldwin capellanus de Branel to the vicarage of St. Stephen in Branel in Poudreschyre. He died in or about 1813 when an inquisition post mortem was held, which showed that at the time of his death he held of the King the manor of Brannel with the advowson of the church there by the service of a yearly rent of 5s., payable to the sheriff of Cornwall for the King's need. The extent of the manor showed that it consisted of a capital messuage, two little gardens, a water mill, a fulling mill, rents of freemen and of conventioners. William de Cornwall, his son, was stated to be 26 years of age. Joan, sister of Walter, and styled by Earl Edmund his sister, married Richard Champernowne and to Richard and Joan Sir Alexander Okeston, having no surviving issue of his own, conveyed the manor of Modbury." From them descended the Champernownes of Modbury and Dartington and inter alios, by the marriage of Sir Pierce Edgcumbe with Johanna Dernford, the Edgcumbes of Mount Edgcumbe. In 1816, William, son of Sir Walter de Cornwall, presented William de Scothowe to the rectory of St. Stephen in Brannel, and in 1320 he had a licence to enfeoff Isabella de Bouleye or Boldhaye of his manor of Brannel, and for her to regrant it to the said William and John his son and the heirs of the said John. This transaction has all the appearance of a marriage settlement, and it is possible that John de Cornwall married Isabella de Bouleye's daughter. Nine years later Isabella was living at Brannel, and had the bishop's licence for an oratory in her manor of Brannel,1, the release of which to the said John de Cornwall does not appear to have been executed until 1343, when Ralph Trejago (de Treiagu) conveyed to him and his wife Margaret the manor and advowson." In 1845 John de Cornwall presented Sir William Robert to the vicarage, and in 1349 Sir Reginald Trevelyan to the vicarage and Mr. Ralph Trejago a go to the rectory of St. Stephen." He died in or before 1861, when his only daughter and heir Isabella presented to the vicarage. The said Isabella, styled variously the Lady of Brannel, Isabella Hendour and Isabella Hendour Lady of Brannel continued to present to the vicarage and rectory until 1394."' Her husband's name is usually given as David Hendower of Wales, and Sir John Maclean cites a fine levied in 1848, in which a David Hendour appears as plaintiff and John de Cornwall as deforciant." If this was in contemplation of a marriage to be solemnized between Isabella and David Hendour or David Hendour's son, Isabella probably lived to be a grandmother, and the very unsatisfactory pedigree given by C. S. Gilbert may contain an element of truth. All that can be certainly affirmed is that Isabella (not Margaret as Gilbert states) married a gentleman of the name of Hendour or Hender, and that her heir was Thomas Hendour, who presented to the rectory of St. Stephen in 1398 and 1418." Journal of the Royal Institution of Cornwall, Vols. 17-18, By Royal Institution of Cornwall, pgs. 419-420.
ANCESTRY OF JOAN, CONSORT OF RICHARD, EARL OF CORNWALL AND KING OF THE ROMANS

ONLY THREE CHILDREN OF RICHARD, EARL OF CORNWALL AND JOAN CAN BE VERIFIED:

1. Sir Richard de Cornwall, Steward of Knaresborough, (1264-1296) m. Joan FitzAlan, daughter of Sir John FitzAlan, Chief Butler of England and Maud de Boteler. "The manor of Brannell was granted by king John to Richard Earl of Cornwall … By Richard it was given to Richard de Cornubia, or Cornwall, his natural son by Joan" The History of Cornwall: From the Earliest Records and Traditions, Vol. 2, Edited by Samuel Drew, pg. 611. They had Sir Edmund, Sir Geoffrey and Richard and a daughter Joan, wife of Sir John Howard. Richard died in 1296 at the Siege of Berwick, Berwick-upon-Tweed, Northumberland, England and his estate was probated on 17 April 1297;

2. Sir Walter de Cornwall, Coroner of Cornwall, (1266-2/20/1313), ancestor of the heiress who married Hendower; his brother, Edmund, Earl of Cornwall, granted 18 Libratas Terrcs in his Manor of Brannel, to his natural brother Waltero de Cornubia jratri srio, (Walter of Cornwall). The History of Cornwall: From the Earliest Records and Traditions, Vol. 2, Edited by Samuel Drew, pg 36. He had a son William and a daughter Margaret, wife of James Peverell and Richard Sergeaux. Information above states his son William was age 26 when his father Sir Walter Cornwall died in 1313, or born 1287, subtracting 21 years from that date would establish Walter's birth year at 1266. His wife's name is unknown;
​
3. Joan de Cornwall (c1268-) m. Richard Champernowne, Pole (p. 309) reports a grant of 1284/5 in which Joan, wife of Richard Champernoun, is called "sister" by Edmund, Earl of Cornwall, legitimate son of the Earl Richard. Their son was Sir Richard Champernoun, heir of Joan's youngest son Sir James Okeston.

Richard, Earl of Cornwall, (1/5/1209–4/2/1272) married 1st Isabel Marshal (10/1/1207-11/16/1272) of the powerful Marshal family, much to the displeasure of Richard's brother King Henry III, who had been arranging a more advantageous match for Richard. They had a son Henry de Cornwall born 11/2/1235 who survived until age 31 when he was murdered by his cousins. His wife Isabel died due to complications in childbirth on 1/17/1240. King Henry and his wife Eleanor of Provence selected Sanchia of Provence as Richard's next wife, she was Eleanor's sister. In 1247, Richard retired to Cornwall to avoid complications which had arisen between the barons and the king. Sanchia and Earl Richard's son Edmund was born 12/26/1249 (later Earl of Cornwall) and was their only child to survive. Edmund's line died out and his half-brother Sir Richard de Cornwall became his heir.

On 5/27/1257 Richard was crowned King of the Romans, however, like his lordships in Gascony and Poitou, his titles were basically in name only. Sanchia and Richard traveled for the next 15 months before returning to England, and in the fall of 1260 she became ill and died on 11/9/1261. Earl Richard's children with Joan were born after Sanchia's death on 11/9/1261 and before 6/16/1269 when he married his 3rd wife. It appears Joan married her 2nd husband before Richard married his 3rd wife. In 10/1268, Richard returned to Germany and met Beatrice, daughter of Theodoric II, Count of Falkenburg, and soon began negotiating marriage with her. It is felt he was hoping to bring his German subjects closer to him, others say he was attracted to her and was unable to be separated from her for even one night. Richard had a stroke on Dec 1271 and was paralyzed and unable to speak and died 4/2/1272. Beatrice never returned to Germany and died in 1277 at age 23. There was no issue from his 3rd marriage.

Lady Joan (1226-1276), parents unknown, married ca. 1247, Sir Ralph de Valletort (c1220-1259), Lord of Trematon, and had one child Sir Reginald (c1248-1270). Sir Ralph de Valletort died in 1259 when his son Reginald was 11, and as custom, he became a ward of Queen Eleanor of Provence. Joan visited her son while he was living as a ward of the Queen, and by 1263 she was living with Earl Richard in Cornwall. In 1268, King Henry III arranged for Joan to marry Sir Alexander Okeston (c1225-7/1/1285). Joan gave birth to her last child Sir James Okeston in 1269. James, having no issue, made his nephew Richard Champernowne (his sister Joan's son) his heir. Joan may have given up on waiting for Richard to ask for her hand in marriage, or King Henry may have made the decision for them. It's quite possible that Edmund of Almain, son of Earl Richard, b. 12/26/1249 and Reginald Valletort, son of Joan, b. c1248, were close friends while Reginald was a ward of Queen Eleanor.
Possible Ancestors of Joan ...