90
HALL FAMILY HISTORY
BY WANDA WARE DEGIDIO
WWW.HALLFAMILYNAME.COM @ 2008

DESCENDANTS OF ROLLO AND DROGO OF NORWAY AND NORMANDY

1. Hrolf "Rollo" (c865-c932) son of Rognvald Eysteinsson, Earl of More, he married Poppa de Bayeux, (see above) Surnames from A-Z, Plus Supplementary Notes and Lists, By Jan B. Young, pg. 45. Rollo's daughter Adele wed William, Duke of Aquitaine. A 9th century Anglo-Saxon Chronicle states, "in A.D. 876, this year Rollo pentrated Normandy with his army; and he reigned fifty winters." The Year 876 must actually be 886 as Rognvald, Rollo's father, was born about 845.

2. William (893-12/17/942) wed in 935 Luitgarde (c916-2/9/977), daughter of Herbert II, Count of Vermandois and Adele de France, without issue. William's mistress was Sprota (c911-c940) who wed Asperling de Vaudreuil after he rescued her following William's assassination by Arnulf I of Flanders. They were the parents of Herleve de Vaudreuil who wed Robert, Archbishop of Rouen, and Rodulf de Vaudreuil d'Ivry (c945-c1014). Arnulf I was the son of Baldwin II and husband of Adele (c910-c960), sister of Luitgarde. In 943, Luitgarde wed Theobald of Blois,and they had five children. Theobald was the brother of Gerlotte de Blois who wed Hrolf Robert "Thurstan". Years later, Arnulf asked Richard I for forgiveness and he agreed, returning his lands.

3. Richard I, (933-996), Duke of Normandy from 942-996, wed in 956, Emma, daughter of Hugh The Great, Count of Paris, becoming guardian of Hughes' son Hugh Capet, the future King of France. Emma died childless in 968. Hugh declined the crown of France twice, passing it to his son. Richard I and his first mistress had Beatrix and Papia, and she likely died early. Upon Emma's death in 968, Richard wed his mistress Gunnora and had Richard, Robert, Geoffrey, Mauger, William, Maud, Hawise and Emma. By a British noble, he was he father of Wymarcha who wed Ansfrid II, le Goz, and after Ansfrid's death, she became a nun.

FOLLOW GREEN LINEAGE IN CHART BELOW STARTING WITH GODFREY, COUNT OF BRIONNE AND EU.
​
1. Hrollager Drogo, (c867-896), son of Rognvald Eysteinsson, Earl fo More. He wed Emina, daughter of Baldwin I, Count of Flanders and Judith Carolingian (844-879) daughter of Charles II, King of France (half-brother of Luitgarde, wife of William, Duke of Normandy), and Ermentrude, Countess of d'Orleans. Judith wed two kings of Wessex, father and son, Ethelwulf and Ethelbald, after their death, she eloped with Baldwin I, and they fled to Rome to seek and Pope's blessing. Her father forgave them and made Baldwin I the first count of Flanders. The History of the Drake Family, By Terry Drake, pg. 10.

2. Rollo Robert Thurstan (c895-c945) wed Gerlotte (c913-c937), d/o Theobald "The Elder" de Blois and Richilde of Borges. Gerlotte's third son was Ansfrid, first Viscount of the Hiemois and father of Ansfrid II, le Goz, whose son Thurstan le Goz was a favorite of Robert, Duke of Normandy according to, The Conqueror and His Companions, By James Robinson Planche, 1874, Vol. 2, pg. 18. Gerlotte died soon after the birth of Ansfrid. Her two other sons were William-Thurstan and Anslech. Anslech de Bastembourg was Baron of Bricquebec, he was born about 935 and wed Gilette de Beaumont. They were parents of Eremburgh (c930-) who wed Torf de Harcourt, son of Bernard The Dane, parents of Thorold de Pont Audemer who wed Wevia d'Arques. Hugh the Great, Duke of the Franks and Count of Paris, was widowed at the time of Ansfrid's birth and wed Hedwig upon Gerlotte's death. He was without doubt the father of Ansfrid I and played a major role in his life and who he married. Descendants of Hugh the Great and Ansfrid I are of the rare haplogroup G2a (see link to Hugh the Great). Hugh's ancestor was the Emperor Charlemagne by way of his mother Beatrice.

3. Ansfrid I, Le Goz (c937-c979) is referred to as "The Dane" by William of Jumieges, he was Count of Hiesmes. He wed about 965 in Tillieres, Helloe (c950-1032), the daughter of Count Godfrey de Beaulac, de Tillieres and Matilda de Luxemburg, per: Two Thousand Years One Hundred Generations Again, By Robert Page, p. 89. Matilda's brother, Frederick, Duke of Upper Lorraine, married Beatrice, daughter of Hugh the Great and Hedwig of Saxony, daughter of Henry the Fowler, King of Germany and Matilda of Ringelheim, in 959, Hedwig's brother divided the dutchy and Godfrey de Beaulac became duke of Lower Lorraine and Matilda's brother Frederick became duke of Upper Lorraine. This marriage was arranged by Hugh the Great before his death in 956. Godfrey died in 964 after joining the Emperor Otto, his first cousin, against Adalbert in Rome. "The surname Goz (Guz, Gois, Goiz) originates in Normandy, "born by a family of Danish strain", in the early tenth century. Several lines can all be traced to Turstain Goz, Viscount of Hiemes (Exmes) and Sir de Gouvis, and from him back to Hrolf Turstain, grandson of Rognvald. "Hrolf" when Latinized is "Rollo". The family is said to have originated in Gotland in southern Sweden, then part of the domain of the King of Norway. Hrolf, or Rollo, who led an invasion of Normandy, which resulted in 912 in obtaining a feudal fiefdom from Charles the Simple, was a half-uncle of our Hrolf Turstain. Hrolf Turstain married Gerlotte de Blois daughter of Thibaut, Count of Blois and Chartreuse" Source: The Fullwood family: being a genealogy of the Fullwood family in the United States and its English antecedents and the pedigree of the author, including all collateral families, By Michael David Fullwood, 1992, p. 560.

4. Ansfrid II, le Goz (c966-) called 'The Dane', was Count of Hiesmes and Steward of Normandy and wed Wymarches. Charters mention nun Wimardis as the widow of Ansfrid II and the mother of Robert fitz Wymarc. Wymarche is believe to the the half-sister of Queen Emma, who was likely behind Wymarche and her half-sister, Abbess Beatrice, becoming nuns at Montvilliers. Emma's son Edward was elevated to Sainthood, and her son Aethelred was considered for Sainthood. Ansfrid and Wymarche were parents of Thurstan le Goz who wed Judith Montanoilier and Beatrice who wed Fulk D'Anet / D'Aunou. Robert FitzWimarc is pictured on the Bayeux Tapestry holding the dying Edward the Confessor in his arms.

"Though the name of Robert fitz Wimarc's father never transpires, there can be no doubt that he was a Norman; nay, that he was allied by blood to the Ducal House, and so a relation of Queen Emma, results from a well-authenticated statement that Robert fitz Wimarc was a cousin (consanguineus) of Duke William. William of Poictiers, a Chaplain and Protege" of the Duke, and withal a very accurate writer, expressly says so; and whereas it is clear that the noble Saxon lady Wimarca, mother of the said Robert, cannot have endowed him with any such consanguinity, it follows that his Norman father did.

Of Wymarcha, the mother of Robert fitz Wimarch, we know little more than what has been already hinted at, viz: that William of Poictiers, writing her name as Guimara, calls her a noble lady (Nobilis Mulier). That she was an English heiress is no great assumption, when we see that she was selected as wife for a relation of Queen Emma. Where her estates lay is another question, for Domesday affords no means of distinguishing those which her son, Robert, inherited from his mother, and those which he himself acquired under the successive auspices of Edward the Confessor and King William." Transactions of the Shropshire Archaeological and Natural History ..., Vol. 2, pg. 3.

FOLLOW RED LINEAGE IN CHART BELOW STARTING WITH ANSFRID II, LE GOZ.

Reginald, Earl of Cornwall and his father, king Henry I, were the force behind arranging marriages for the benefit of their children and grandchildren. Robert d'Avranches was find 170 silver marks by king Henry I for showing his displeasure toward the dau of Geldwin de Dol prior to their marriage arranged by king Henry I. As a result of this marriage, the manor of Okehampton passed to Matilda, dau of Robert d'Avranches and Hawise de Dol and then to her husband, Robert Fitz Roy, natural son of king Henry I. The Monks of Ford wrote a flawed history of the d'Avranches family in order for Robert Fitz Roy, the kings natural son, to become Lord of Okehampton, from their journals of the d'Avranches family they write, "by King Henry's means, obtained in marriage Hawise, daughter and sole heir to Robert de Abrincis (or Avranches)." The Peerage of England; Containing a Genealogical and Historical Account, Vol. 6, p. 451.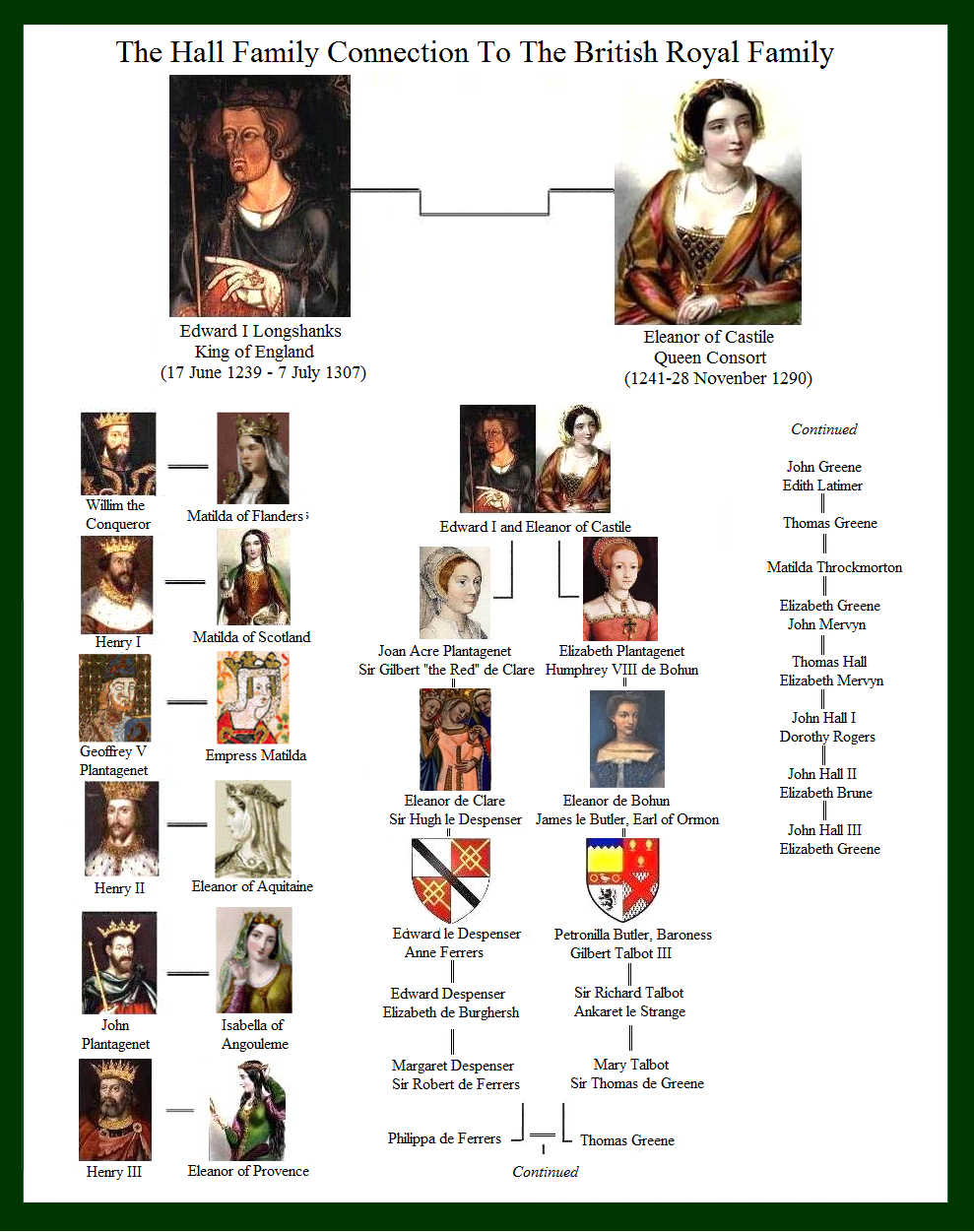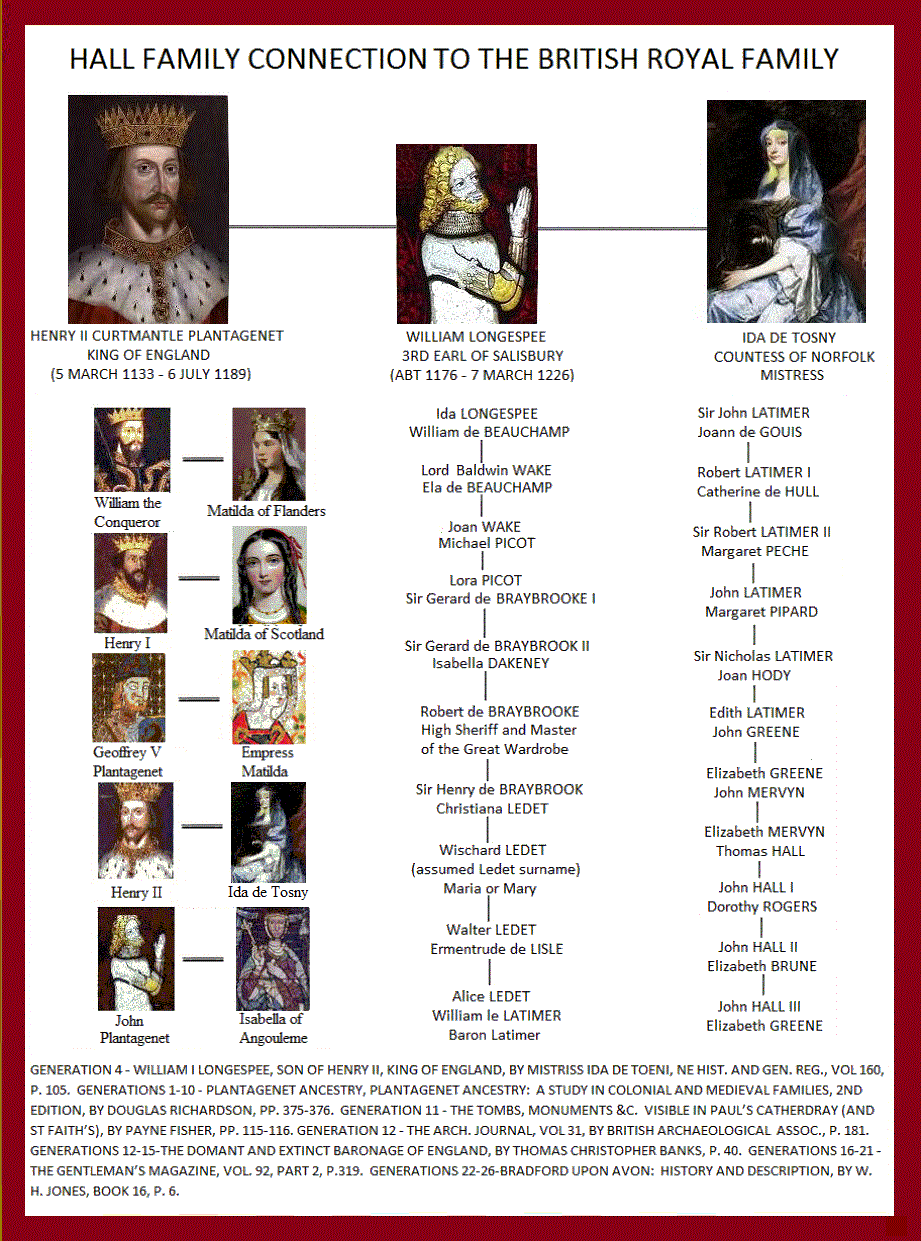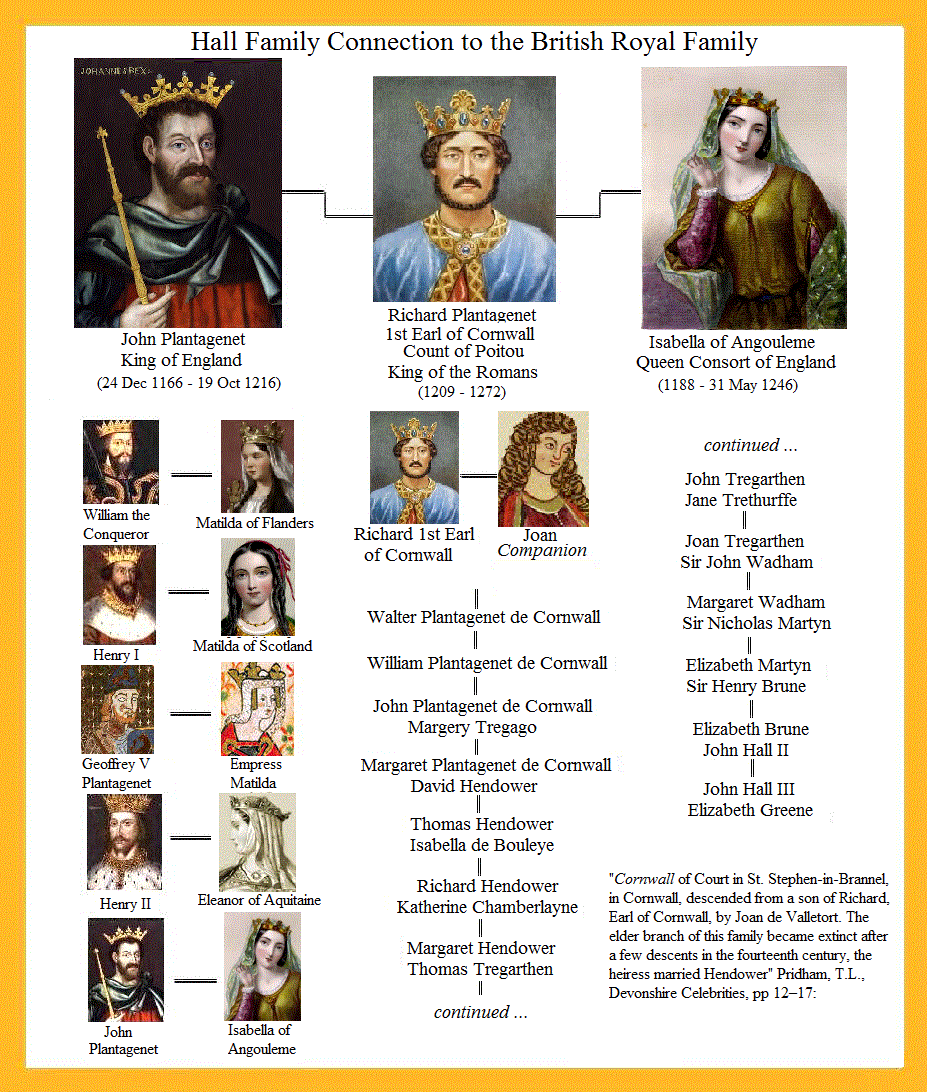 Far left coat of Arms belongs to Walter de Bath
Middle Coat of Arms belongs to Sir Richard de Cornwall, son of Richard, 1st Earl of Cornwall and Joan
Far right Coat of Arms belongs to Henry de la Pomeroy, this seems to be the most likely family for Joan.
1. Reginald de Dunstanville (c. 1110 – 1 July 1175) Reginald was born in Dénestanville in the Duchy of Normandy, an illegitimate son of King Henry I (1100-1135) by his mistress Sybilla Corbet, a daughter and co-heiress of Sir Robert Corbet lord of the manor of Alcester, Warwickshire,[1] who was at some time the wife of "Herbert the King's Chamberlain". Reginald's sister was Rohesia, wife of Henry de Pomeroy (died c.1135), feudal baron of Berry Pomeroy in Devon, according to, The Visitations of the County of Devon: Comprising the Heralds' Visitations of 1531, 1564 & 1620, Exeter, 1895, p.605, pedigree of Pomeroy of Berry Pomeroy.
2. Henry I de la Pomeria or Pomeroy I (c1100, died pre-1165) (son), Constable of Normandy, a household knight of King Henry I (1100-1135) and named as one of the king's household constables in the Constitutio Domus Regis. He was a leader of the king's household troops on several occasions, notably in 1124 at the Battle of Bourgtheroulde, about ten miles southwest of Rouen. He married Rohesia de Dunstanville, sister of Reginald de Dunstanville, 1st Earl of Cornwall (c. 1110 – 1 July 1175), both illegitimate progeny of King Henry I (1100-1135) by his mistress Sybilla Corbet, a daughter and co-heiress of Sir Robert Corbet lord of the manor of Alcester in Warwickshire, who was at some time the wife of "Herbert the King's Chamberlain". Rohesia received a grant from her brother the Earl of Cornwall addressed in Latin to Rohes de Pomereia sorori mea ("Rohesia de Pomeroy my sister"), of the manor of "Ridwari" in Cornwall.
3. Henry de la Pomeria or Pomeroy II, (c1125-1197) held the Castle of La Pomerai, and was Prepositura (Provost) of the Duke of Normandy. Gave land to the Priory of St. Nicholas at Exeter; fortified and defended the Castle of Mount Saint Michael for King John. Married (1) Matilda de Vitrei, daughter of Andre de Vitrei and Agnes,(daughter of Reginald, Earl of Cornwall, and his wife, Agnes or Beatrice, Countess of Cornwall); m. (2) Rohesia, dau. of Thomas and sister of Doun Bardolph (s. p. by her). One son named in our authorities --
4. Henry de la Pomeria or Pomeroy III, son and heir, (c1150-1216), settled on his 2d son, Galfrid (Geoffrey) the manors of Clistwick, Braordin and Ceriton 7 John. Married Alicia de Vere (daughter of Robert de Vere, Earl of Guisness in Normandy, and his wife Maud de Cornwall).
5. Henry de la Pomeria or Pomeroy IV son and heir, (c1175-1226), gave lands in Boscowen and Trelgher, County Cornwall, to the Monastery of Saint Michael's Mount; he was Governor of Exeter Castle 12 to 16, John and Sheriff of Devon Henry III. Married Johanna [Joan], daughter of Reginald and sister of Roger de Valletort.
6. Joan de la Pomeria or Pomeroy (c1220-) relationship with Richard, 1st Earl of Cornwall (1209–1272) she married 1) Ralph de Valletort 2) Alexander de Okeston and 3) Andrew de Trellek in 1277 at age 66, Andrew was born in 1229.
7. Sir Richard de Cornwall (c1240-1296) natural son of Richard, 1st Earl of Cornwall (1209–1272) (the 2nd son of King John (1199–1216)) by his mistress Joan de Valletort.

Joan, spouse of Ralph de Valletort, was thought to be the daughter of Walter de Bath, as Inquistion and Post Mortem of Devon: Thirteenth-Sixteenth Centuries Court of Chancery states: Walter de Bath held land in Clauton of the gift of Guy Norant of land in Fernhull, held of Joan who was the wife of Ralph Valletort, who has it in dower. History of St. Mary's Abbel of Buckfast in the county of Devon: A.D. 760-1906, page 7, Sir Ralph de Valletort died 1257, leaving a son Reginald under age. As lady of the manor Johanna, Sir Ralph's widow, made a grant to Abbott Henry of her dower lands. When Henry de Bath [son of Walter] fell into disgrace with King Henry III, he was restored to his former places of trust by the intercession of Richard, Earl of Cornwall, the king's brother, according to Devonshire Celebrities, T. L. Pridham, page 12-17. This dispute between King Henry III and Sir Henry de Bath was of a serious nature as, "In November 1250, he was accused of extortion, taking bribes, letting a convicted criminal escape, and raising the barons in revolt against the king— Henry III.; and in a Parliament, to which he was soon after summoned, the king, in a great rage, said "Whoever shall kill Henry de Bath, shall be quit of his death; and I do hereby acquit him.". Report & Tranactions, Volume 18, pp 301-302.

A third Possibility of her ancestry was put forth by, Journal of the Royal Institution of Cornwall, Volumes 17-18, By Royal Institution of Cornwall, page 415. "The present enquiry is concerned with those children of Earl Richard, who, though by courtesy described as the brothers of Earl Edmund, were not acknowledged as his lawful brothers by the law of England. It will be remembered that until the birth of Edward I in 1289 Earl Richard was next in succession to the throne. His marriage was therefore an affair of state. It is possible that he may have seriously intended marriage, may even have contracted a marriage with one whom the king and the great officers of the realm refused to acknowledge as his wife. It is certain that he was the father of children by a lady named Joan, who in Cornish history occupies a position of considerable importance. She is usually described as the daughter of Sir Reginald de Valletort, but Sir William Pole, a very reliable authority, and also the author of Prince's Worthies, do not support this theory. According to the last named author she was for some time the wife of Ralph de Valletort, a statement which is confirmed by the fact that she held one-third of the manor of Brixham in dower at the time of her son Reginald de Valletort's death in 1270," and was also dowered of lands in Trematon,' a manor granted by the Conqueror to Reginald's ancestor and namesake, and held by the latter of the Count of Mortain at the time of the Domesday survey. It is certain therefore that, whatever her parentage, she was a Valletort by marriage. Immediately after Ralph de Valletort's death she married Sir Alexander de Okeston or Oxton, and in the same year Roger de Valletort, who by the death of the said Reginald his nephew about the same time had succeeded to the Valletort patrimony, granted to Earl Richard the manor of Trematon, 60 knights' fees in the counties of Cornwall and Devon, and also the manor of Calstock, the conditions being that if Earl Richard died without heirs of his body the premises should revert to Roger and his heirs; also Earl Richard granted to Alexander Okeston 200 acres of wood called Kellywood in the manor of Calstock. Moreover, by a separate charter of the same year, Earl Richard granted to Alexander and Joan for their lives the manor of Calstock in exchange for the lands which Joan held in dower in the manor of Trematon. No reason is assigned for this voluntary surrender of the Valletort patrimony. The Valletort family as revealed by three inquisitions post mortem and the records already referred to is shown by the following table:

​Whatever may have been the motive which induced Roger de Valletort to give his lands to Earl Richard, it was almost certainly connected with Joan. By Earl Richard she was the mother of at least two children,—Walter de Cornwall and Joan the wife of Richard Champernowne. It is impossible to give the exact dates of their births, but approximate dates may be assigned when regard is paid to the following facts. Walter de Cornwall died in 1818. At that time William his son and heir was 20 years of age. William would therefore be born in 1287, and Walter consequently must have been born before 1270, that is before Joan's marriage to Alexander Okeston. And inasmuch as this marriage followed immediately after Ralph de Valletort her former husband's death, it follows that Walter de Cornwall was born prior to Joan's marriage with Ralph de Valletort. Reginald de Valletort was over 21 years of age at the time of his death in 1270, and must therefore have been born before 1250. This places the liaison between Earl Richard and Joan at some time between 1240 and 1250. It is well known that Earl Richard retired to Cornwall in 1247 in order to avoid the complications which had arisen between the barons and the king, and it is perhaps not unreasonable to suppose that it was about that time that he made Joan's acquaintance. Joan's parentage is too fascinating to be entirely passed over. A suggestion may be offered. The arms borne by her descendants the Cornwalls of Brannel—a black cross bozantce on a silver shield—are very nearly those of the Durant family who bore a black cross on a silver shield without the bezants. Walter, the name of Joan's son, was also the name of the ancestor of the Durants, who had settled in east Cornwall and given their name to Leigh Durant in Pillaton. A John Durant, father of Joan, the wife of Nicholas Dauney, was found in 1300 to have held a carucate of land, a water mill and £4 of rent in Duranteslegh juxta Moddeton." It would not be surprising therefore if further research showed that Joan was the daughter of Walter Durant; but at present her parentage is a matter of conjecture."